Seaplane Tour & Private Heritage Tour
| | |
| --- | --- |
| Adult Rate | Child Rate |
| AED 2494 | AED 2116 |
| USD 681 | USD |
Tour Information
HIGHLIGHTS
A 40 minute scenic seaplane flight over Dubai
Aerial view of Dubai's iconic landmarks
Expert dedicated tour guide for the private half day tour (4 hrs)
Private Water Taxi from Dubai Creek
Stroll around Dubai Museum and a unique ride on a traditional 'abra' across Dubai Creek
Visit the Gold, Spice and Textile Souks
A meal in Bastakiya
Drop-off service to Dubai Mall after the tour by car
Seaplane Tour & Private Heritage Tour
Feel the excitement as you are lifted over the waters in our plush Cessna seaplane, for a 40 minute tour of Dubai's remarkable skyline. Enjoy views of the opulent Burj Al-Arab, Palm Jumeirah and The World Islands, a stunning archipelago of islands designed to resemble a map of the world.
Fly along the coast and capture the mesmeric beauty of the ribbon-like Dubai Creek, on your camera before landing back on the water. Descend over the waters of Dubai Creek and proceed to a Private Heritage Tour of Dubai. Discover the many attractions which include the famous spice market and the city's oldest buildings.
Listen to tales from a bygone era and get a real flavor of the true heritage of this modern city. Cruise along Dubai Creek on a traditional 'abra' boat across the water to explore Dubai Museum and the atmospheric Al Bastakiya quarter. Walk through the alleyways of souks and Al Bastakiya while you listen in wonder to your guide's chronicles of the Arabic traditions and enjoy a traditional Arabian lunch. Afterward, choose to leave your guide here so you can explore independently, or end your tour with a drop-off at Dubai Mall.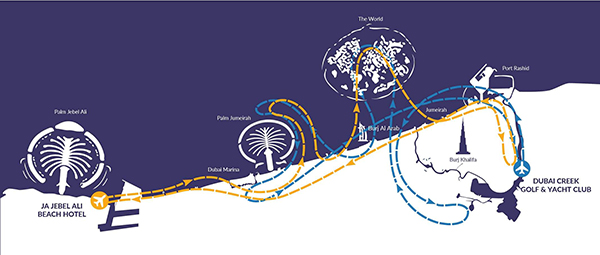 Ultimate tour of Dubai
| | |
| --- | --- |
| Adult Rate | Child Rate |
| AED 1780 | AED 1512 |
| USD 486 | USD 412 |
Tour Information
HIGHLIGHTS
40-minute seaplane flight
Water take-off and landing
Aerial views of gorgeous landmarks such as the Burj Khalifa that stud Dubai's skyline
Unparalleled views of Dubai's man-made archipelagos including Palm Jumeirah and The World Islands
Views of Dubai Marina and the busy ports of Jebel Ali and Port Rashid
Flexible timings and take off locations to choose from
Total Tour Duration - 2.5 hours
Ultimate tour of Dubai – Seawings Silver Seaplane Tour
Take your pick from two convenient take-off locations, Jebel Ali or Dubai Creek. Soar into the sky on our state-of-the-art Cessna seaplane that takes off and lands on water. Carefully crafted to include all Dubai's iconic attractions, the Dubai Silver Air Tour is our most popular sightseeing tour.
Spend 40 minutes soaring over the attractions in Dubai, with large private windows ensuring intimate views at all times. Enjoy stunning vistas of Dubai's most well-known attractions such as Burj Khalifa, the sail-shaped Burj Al-Arab Hotel, Palm Jumeirah and The World Islands, the impressive 300 islands archipelago, built to resemble a world map. Fly low over Port Rashid and Dubai Creek and admire the fleet of luxury yachts at Dubai Marina.
Fly over golden beaches and lush green golf courses. Return along the coast toward Jumeirah and Dubai and glide back over the waters where your tour originally began.
SEAPLANE TOUR DUBAI
Take off to an unforgettable experience with Seawings seaplane tours.
Imagine gently taking off from the pristine waters of Dubai on a Seawings seaplane and slowly ascending to the skies. Peer out of the window of your spacious cabin, only to see the most astonishing view of the picturesque Dubai skyline.
Observe every architectural detail of the topmost point of the world's tallest building - the Burj Khalifa, a spectacle that is positively invisible from the ground. Witness the marvelous design of the man-made Palm Jumeirah Island - a visual extravaganza that can be seen only from the sky. Seawings offers once-in-a-lifetime aerial experiences that you will want to relive every time you are in the UAE.
INCLUDES
Preflight refreshments
Preflight safety & tour briefing
EXCLUDES
Hotel Pick up
Transport to and from the base
Optional Activity Costs
PLANE INFO
Capacity: 9 passengers
Comfortable luxury seating
Air Conditioned Cabin
Large glass windows for each seat
IMPORTANT NOTES
All tours are subject to availability.
All tours are subject to weather conditions.
All tours and routings are subject to change for reasons of safety or for operational reasons as determined.
All passengers must bring an original passport or UAE national I.D. card to check-in, in order for security regulations to be met.
Available also for transfer from Dubai to Other Emirates. Rates are available upon request.